Walt Disney World – Day 4 – EPCOT – Dinner at Coral Reef
We had an early ADR booked for Coral Reef, I would have liked it a little later when we were planning our trip but it turned out to be the perfect time for us as it made as do a full day in the park which helped adjust Ethan to the time zone change.

When we checked in I asked if we could have a table as close as possible to the aquarium tank. The restaurant is set up a bit like a theatre with the aquarium in the stage position and then about four levels that hold the tables that go higher the further you are from the tank so I would say that everyone has a good view of what is going on in the aquarium  We have been to this restaurant twice before and each time we have sat along the back row and I actually don't think the view is that bad as you can see so much more but I know Ethan is fascinated with water and fish that I thought the closer we sat to the tank the easier the meal would be for us as Ethan would be watching all the fish because it would be close enough to grab his attention.

We had to wait longer than everyone else to be shown to a table because of the requested position but it wasn't a problem. We were shown to a booth table on the first level and this is the view that greeted us…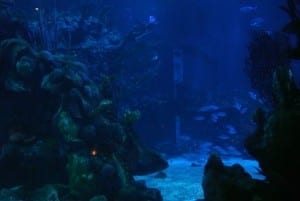 …but it was lost on Ethan as he wasn't interested in looking at it at all and spent most of the dinner playing with Darren's iphone. The funny thing is there was a family sitting at the booth next to us who had a little girl about the same age as Ethan and she spent all of her meal on an iphone. We all looked at each other and laughed about the wonders of technology. 
Only me and Darren could go to a restaurant known for its fish dishes and not have any, we decided on
The Grilled New York Strip Steak for our main and the The Chocolate Wave for dessert. 
We got Ethan the Meaty Macaroni for his main and he shared my dessert. 
We have the steak well done and I found mine a little tough. I was a little bit disappointed as I found this place had the best steak last time we ate here but Darren's was perfect for him. So this meal didn't live up to my expectations but we did enjoy our dinner. It is a very different experience eating out with a toddler you definitely make sure they are catered for before your own meal gets touched.   
We used two of our table service credits, the reaming to pay was $22.76.
After our dinner we made our way back to the buses and home to the Animal Kingdom Lodge. We let Ethan have his Duffy The Disney Bear story fix before turning in for an early night as we had a big day ahead tomorrow.