We have talked about getting a Colchester Zoo Gold Pass for a while now so in the week we finally took the plunge and purchased some. I went with my parents on Thursday to buy them and Darren had to collect his today as they put your picture on the back of the pass. 

As you have to go into the zoo to buy and collect the passes we stopped off to see the penguin's on Thursday and it was at the same time as their feed so we decided to stay and watch it and I'm so glad we did. They bring the penguin's out of their enclosure and into a viewing area, it was fantastic to see them so close and not behind glass.
Ethan was just as amazed as we were and found it all very funny.
Today we stopped at the sea lions after picking up Darren's pass and we got to see them being fed.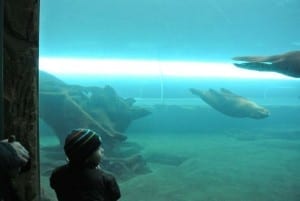 We have a whole year to see all of the animal feeds and there are going to be lots of events at the zoo this year, one of them being the zoo's 50th birthday celebrations so I'm sure we will get lots of use out of the passes.